A major loss in the for the philosopher community occurred last week.
The Italian novelist and philosopher Umberto Eco passed away, and left a significant void in the intellectual elite of our times.
One of his most known novels was Foucault's Pendulum (Il pendolo di Foucault).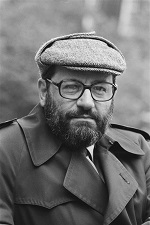 Foucault's pendulum is not just a great novel. It is a real device, named after the French physicist Léon Foucault. It is a simple device conceived as an experiment to demonstrate the rotation of the Earth. While it had long been known that the Earth rotates, the introduction of the Foucault pendulum in 1851 was the first simple proof of the rotation in an easy-to-see experiment.
A pendulum in general, is a weight suspended from a pivot so that it can swing freely. When a pendulum is displaced sideways from its resting, equilibrium position, it is subject to a restoring force due to gravity that will accelerate it back toward the equilibrium position. When released, the restoring force combined with the pendulum's mass causes it to oscillate about the equilibrium position, swinging back and forth. The time for one complete cycle, a left swing and a right swing, is called the period. The period depends on the length of the pendulum, and also to a slight degree on the amplitude, the width of the pendulum's swing.
From its examination in around 1602 by Galileo Galilei, the regular motion of pendulums was used for timekeeping, and was the world's most accurate timekeeping technology until the 1930s.
Pendulums are used to regulate pendulum clocks, and are used in scientific instruments such as accelerometersand seismometers. Historically they were used as gravimeters to measure the acceleration of gravity in geophysical surveys, and even as a standard of length. The word "pendulum" is new Latin, from the Latin pendulus, meaning 'hanging'.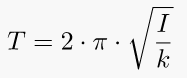 Torsion balances, torsion pendulums and balance wheels are examples of torsional harmonic oscillators that can oscillate with a rotational motion about the axis of the torsion spring, clockwise and counterclockwise, in harmonic motion. (e.g. A Pendulum, the weight of which is rotated alternately in opposite directions through a horizontal plane by the torsion of the suspending rod or spring, used for clocks intended to run a long time between windings).
Torsional Pendulum (period) is given by the equation on the left, where T is period in Seconds, π is pi, I the moment of inertia (kg*m2) and k the torsional rigidity (N*m).
Go ahead, check this equation and search whatever else you want to solve. You will find some help in our fxSolver video.
Also remember to follow or interact with us in our social media pages. You will find links below.