Doctors are smart people but lots of them hated math in school and though that after becoming doctors, they would never have to solve an equation again!
Well think again, while reading the 10 formulas a Doctor should know and use.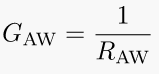 In respiratory physiology, airway resistance is the resistance of the respiratory ...