Capstan! A 6 century old bad ass piece of machinery. Thousands of rugged men used it to lift cargos to make a living, or travel the wild sea, or just turning it around for no obvious reason but building a body that would make even Hercules jealous.
The 20th century came, and humanity still uses capstans but in a less manly way. They are powered electrically, hydraulically or even via internal combustion engines. Capstans are also used in our beloved Tapes. Yes the ones with music on also known as Cassettes. The ones you were mixing to give to the girl you liked on Valentine's day, or the ones that a little guy full of zits gave you on Valentine's day back in high school.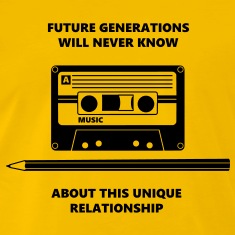 How did it work? The capstan used to move recording tape through the mechanism of a tape recorder. The tape is threaded between the capstan and one or more rubber-covered wheels, called pinch rollers, which press against the capstan, thus providing friction necessary for the capstan to pull the tape. The capstan is always placed downstream (in the direction of tape motion) from the tape heads. To maintain the required tension against the tape heads and other part of the tape transport, a small amount of drag is placed on the supply reel. Tape recorder capstans have a function similar to nautical capstans, which however have no pinch rollers, the line simply being wound around them.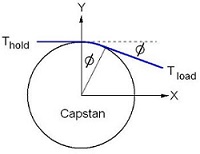 There is also a Capstan Equation. The capstan equation or belt friction equation, also known as Eytelwein's formula, relates the hold-force to the load-force if a flexible line is wound around a cylinder (a bollard, a winch or a capstan). Because of the interaction of frictional forces and tension, the tension on a line wrapped around a capstan may be different on either side of the capstan. A small holding force exerted on one side can carry a much larger loading force on the other side; this is the principle by which a capstan-type device operates.



The equation is the one on the left and Tload is the applied tension on the line (N), Thold the resulting force exerted at the other side of the capstan (N), μ the coefficient of friction between the rope and capstan materials(dimensionless) and φ is the total angle swept by all turns of the rope (radians).
Go ahead, check this equation and search whatever else you want to solve. You will find some help in our fxSolver video.
Also remember to follow or interact with us in our social media pages. You will find links below.