In our last post, we described P Waves, their formula, and Thale's of Miletus theory of earthquake generation.
Today we are going to discuss the theories of two other famous "ancient" fellas. Anaximenes and Democritus.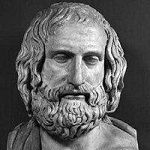 Anaximenes, was an Ancient Greek Pre-Socratic philosopher active in the latter half of the 6th century BC. One of ...