Inspired by Marvels Thor and his unique hammer Mjölnir, electrical engineer Allen Pan, crafted a hammer that only he can lift… as long as the hammer is on a metal surface and made a video which is now viral. You guessed right, "Magnets Oh! " is the word, but how exactly?
Pan decided that strong electro-magnets were the best method. Inside the head of his Mjölnir, he packed a microwave oven transformer electromagnet, which uses electricity to produce a magnetic field. This creates a very strong magnetic pull, strong enough that the hammer, when placed on a metal surface that can't be lifted of course, feels too heavy to lift.
The handle is attached to a capacitive touch sensor, which in turn is attached to an Arduino Pro Mini and a solid state relay, which serves as a switching device. As soon as someone grasps the handle, the electromagnets switch on, attaching the hammer to the metal surface.
The magnets can be turned off via a fingerprint sensor keyed to Pan's thumbprint. When Pan grasps the hammer, the magnets switch on. When he moves his thumb over the sensor, it switches off again, allowing Pan to lift the hammer.
In the video he takes it and places it on metal surfaces around California and encourages people to attempt lifting it. When they're unable, he tells them they're not worthy, then lifts the hammer himself and laughs at their face.

In fxSolver's database, you can find the equation for Closed magnetic circuit, also known as magnetic field.
An electromagnet is a type of magnet in which the magnetic field is produced by electric current. The magnetic field disappears when the current is turned off. Electromagnets usually consist of a large number of closely spaced turns of wire that create the magnetic field. The wire turns are often wound around a magnetic core made from a ferromagnetic material such as iron. The magnetic core concentrates the magnetic flux and makes a more powerful magnet. For a closed magnetic circuit (with no air gap), such as would be found in an electromagnet lifting a piece of iron bridged across its poles the magnetic field can be calculated by the average length of the magnetic circuit and the electric current. B is the magnetic field (T), N the number of turns (dimensionless), I the electric current (A), μ the magnetic permeability of the core material (H/m) and L is the average length of the magnetic circuit in meters.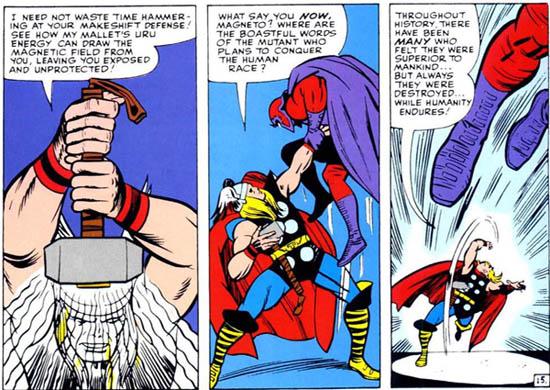 Go ahead, check this equation and search whatever else you want to solve. You will find some help in our fxSolver video.
Also remember to follow or interact with us in our social media pages. You will find links below.