Today, the Western world is anticipating one thing. The release of the new Season of the Netflix Original Series, House of Cards.
The politics centered series have a major impact in viewers worldwide. Even the President of the United States himself admitted that he is a fan of House of Cards.
In case the one person that doesn't know what these series are about is our reader, I need to explain.
Frank Underwood is a politician. Not one at the frontline but one that pulls strings behind everyone else's back.
After being the Majority Whip in the House of Representatives, he was promised to be Secretary of State if he could ensure the election of Mr. Walker as President. He did as asked but he ultimately didn't receive the position he was promised. And as a powerful and ruthless man would do in his position, he desires vengeance. And with the help of his cold hearted bitch of a wife, he makes a plan of how to do that.
Long story short (Spoiler Alert), two seasons later he is the President of the United States!
The last name "Underwood" reminded me something that I saw in the fxSolver database once! The "Atwood number".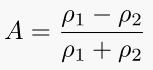 The Atwood number is a dimensionless number in fluid dynamics used in the study of hydrodynamic instabilities in density stratified flows. It is a dimensionless density ratio related to the density of heavier fluid and the density of lighter fluid. (The difference in the fluid densities divided by their sum). Atwood number is an important parameter in the study of Rayleigh–Taylor instability. For Atwood number close to 0, RT instability flows take the form of symmetric "fingers" of fluid; for Atwood number close to 1, the much lighter fluid "below" the heavier fluid takes the form of larger bubble-like plumes. The Atwood number is given by the equation on the left, where ρ1 is the density of the heavier fluid (kg/m3) and ρ2 the density of the lighter fluid (kg/m3).
Go ahead, check this equation and search whatever else you want to solve. You will find some help in our fxSolver video.
Also remember to follow or interact with us in our social media pages. You will find links below.